PCB Component / IC Shortages - Status Report 2022
The global integrated circuits / chip shortage has impacted many industries across the globe, and though it does seem to slowly be getting better, we're still a ways out from things stabilizing and turning back to normal.
There's been a real disruption on long-term price and availability. Designers are now having to make sacrifices left and right during the design process. Instead of designing for the most ideal components, it has now become a process of first finding what is currently available, and designing their application from there.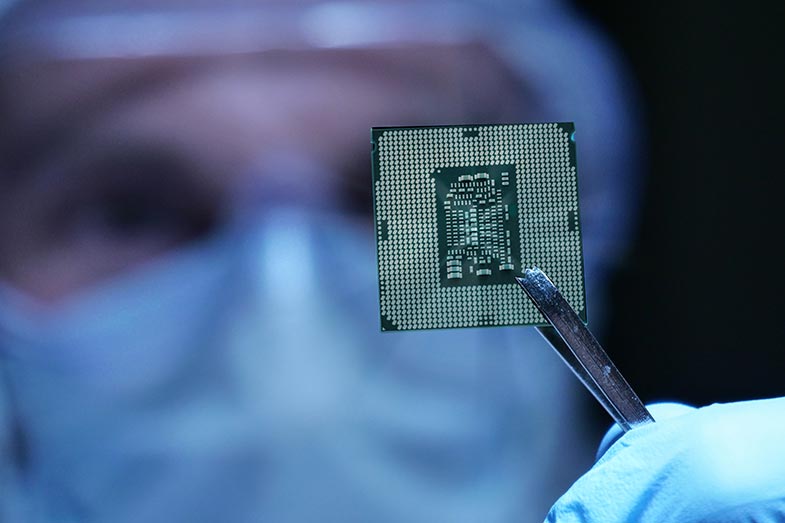 Component Shortage Background
In the past few years, a global pandemic paired with a surge of new technologies and applications such as Internet of Things (Iot) and digitalization of most modern devices has resulted in a demand that has far exceeded supply.
Though many factories had shut down during the pandemic, the chip shortage was already apparent. It was exacerbated during the onset of COVID-19 and has now become a commonly accepted fact of life for most markets, such as automotive, healthcare (particularly eHealth), consumer tech, IoT devices, and in general, most devices requiring embedded processing and wireless connections.
Other causes, like natural disasters have also disrupted supply.
Specifically affecting PCB production, certain raw materials are in high demand and short supply, such as copper foil and aluminum.

LME Copper Official Price Graph from April 2019 to March 2022
Source: London Metal Exchange

LME Aluminum Official Price Graph from April 2019 to March 2022
Source: London Metal Exchange

Shortage Mitigation Strategies
Shortages in the industry have led to massive increases in lead times and costs.
Designers have had to consider many strategies during development to get around these shortage hurdles and get their prototypes delivered on time.
A board designer these days must accept the fact that they need to develop an architecture with the mindset of "what's available?" vs. " what's ideal?".
Whether it's a processor, wireless device, memory, display, etc., older designs cannot be leveraged and re-used the way they used to be. Each major subsystem component needs to be vetted in terms of source-ability before the actual design phase can start. In fact, ordering and securing these major parts right away can be key to the project's success.
Stockpiling Specialized Components
Many times, devices can become unavailable during the design process (even in a matter of days!). This occurs when other designers secure their selected part and purchase larger quantities than normal. It's a hoarding tendency that, while can be very advantageous for the buyer, can negatively impact others trying to secure the same part.
So one strategy here, probably one of the most important things to consider, is to make sure that your major system components (all specialized ICs, processors, displays, parts that cannot easily be substituted) get ordered up front to lower the risk of re-design and scrapping work once the board/system is ready to be built.
Beware of Component Counterfeits
Another point to consider is how you go about securing components. Many authorized, trusted US-based distributors struggle to keep up with demand and this may tempt the buyer/designer to explore other off-shore, 3rd party vendors, leading to a new category of risk.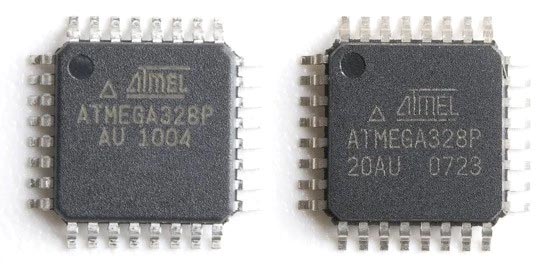 Nearly Indistinguishable Counterfeit ATmega328 chip
Source: Hackaday.com
Counterfeit parts including semiconductors are a real problem. One study revealed that counterfeiting costs US-based semiconductor companies more than $7.5 billion per year.
The stress of keeping a production line alive may result in compromised company policies with regards to vendor requirements and approvals, including certifying parts and testing as needed during the sourcing process. Finding and establishing good relationships with off-shore vendors that have access to chips and can provide certification or confidence in legit components can be crucial to a project's success.
And this must be done before the design phase can begin.
Design Against Obsolescence & Second-Sourcing
In general, it's good to design against obsolescence and build in second-source options, especially if it's a design that is expected to last a long time and can be critical to the application (health, safety, etc.).
However, it's also a good idea to plan for backup options during development.
An example of this is choosing a processor chipset family that contains many processors with the same physical footprint, but slight variances in terms of function. Most families of processors consist of a variety of devices with I/O pin count differences, memory, and number of serial interfaces, but they may all leverage the same core libraries and chipset files for development.
In other words, one chip's firmware may be portable to another chip if they fall within the same family. So choosing a chipset with many alternatives is a good start.
Additionally, second-source footprints might also be of interest to the designer. This goes beyond processors and can typically be done if one part's footprint can be overlayed on top of another footprint. An example of this can be seen below in the figure, showing an op-amp (by TI) with 2 different footprints.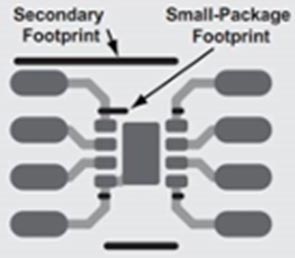 This can be done on a larger scale with processors too, as long as one footprint can be placed inside the other and there's adequate space for sharing traces.
Recycling & Harvesting Chips
For low volume proof-of-concept and prototype PCB applications, one approach to consider is harvesting chips from reference or evaluation boards. This is a bit of a desperate act, but if planned right, can provide temporary relief of parts shortages and help to develop a more ideal solution for a project while waiting for back-ordered parts and factory lead times to improve.
In fact, many development boards and kits that feature non-stocked components are still widely available.
Partner Outreach
Another approach is to reach out to application engineers and 3rd party companies/reps that have close connections with chip vendors. Usually they have direct access to development kits as well as components that may not be available at US distributors.
Partnering with a PCB fabrication and PCB assembly provider with a strong reputation and strong connections with suppliers can be a key source for components in short supply.
And when finally locking down a design and preparing files for a build, it may help to have alternative parts lined up on your bill of materials so that the board vendor can source those components if needed without continuously seeking your guidance or approval on replacement parts. Now more than ever, BOMs get edited daily with replacement parts for those that become unavailable. Make sure to plan in advance, even the basic passive parts like 10k resistors, and list several alternates and reduce the back-and-forth between the designers/buyers and the board vendor.
In conclusion, the semiconductor climate is improving slowly, but still won't be stable until well after 2022. With parts lead times commonly exceeding a full year, designers need to pivot on the development process and build in specific strategies to overcome these hurdles of identifying and securing parts for a build. Make sure to run sourcing checks before the design phase begins, be proactive in terms of securing parts (whether it's sample requests from a vendor, harvesting parts from development kits, or ordering from 3rd party chip vendors and getting them tested/certified). Plan for backup options with second-source PCB footprints, alternative processors that can easily allow for ported firmware projects, and lists of alternate, pre-approved parts to reduce time spent between the board vendor and the designer.
Let's hope for a better semiconductor climate in the future but until then, designers must stay creative and resourceful.