Medical PCB Manufacturing & Assembly for Devices, Instrumentation, & Equipment
One-Stop Fabrication & Assembly
Medical devices have one crucial requirement - 100% reliability. When a patient's health and life are at stake, nothing less than perfect functionality without failure is acceptable.
To achieve this level of reliability, your PCB manufacturer and assembly partner needs to meet and understand the various strict medical standards.
Medical standards have been in place for decades to guide the robustness and safety requirements of electronic designs. These standards are strict and can be challenging to meet so it's important to verify your boardhouse's credentials and protocols.
Standards & Guidelines for Medical Devices
The largest governing bodies publishing medical device regulations are the IEC and the ISO. In addition, the FDA and FCC may also have their own standards. There are several different standards that are all necessary due to the broad scope a medical device may fall into.
San Francisco Circuits has provided medical PCB manufacturing and assembly that have adhered to many standards for different uses. Typically, all medical devices will be compliant with ISO 13485.
ISO 13485: ISO 13485 is used by organizations involved in the design, production, installation and servicing of medical devices. ISO 13485 is the FDA's mandatory quality management system (QMS) for medical devices.
Medical Device Applications
We have built or collaborated on many different types of medical device applications. Some devices and areas of interest we have built or collaborated on include:
Lab Analysis
Diagnostic Imaging
Blood Chemistry Monitors
Patient Monitoring
Implantable Devices
Therapeutic Applications
Surgical & Other Medical Robotics
Disposables
Microfluidics
Molecular Diagnostics
Neurostimulation
Device Assisted Drug Delivery
Wearables & Sensored Connected Devices
Ultrasonic Technology
Neurological Stimulus
EMG Activity Systems
Vesicle Pressure Measurement
Infusion Fluid Controls
Peristaltic Infusion Technology
Flow Rate & Dispensing Systems
Medical PCB Capabilities
Our team has the ability to provide PCB prototypes or production quantities, both bare-board and assembled, for whatever stage in your medical device development process you're in.
Medical technology companies rely on our expertise in bridging the gap between their device's concept into reality. Whether the requirements call for extreme miniaturization or fine line trace and space, medical companies select us because they know they can challenge us to push the boundaries beyond standard printed circuit technologies.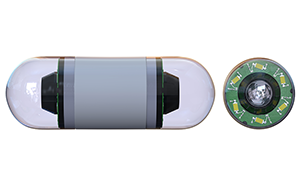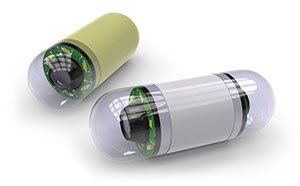 Pill Camera Medical Industry PCB Example
PCB Production Capabilities
Specifications
Standard Technology
Advanced Technology
Number of Layers

1 - 12

14 - 40

Quick Turn Times

up to 24 hours for bare board fabrication or assembly (1-6 layers)
up to 48 hours for fabrication and assembly (1-6 layers)
3 to 7 days (6 to 16 layers, some advanced technologies)

Minimum Board Thickness

2 layer - 0.010"

4 layer - 0.020"

6 layer - 0.020"

8 layer - 0.062"

10 layer - 0.062"

12 layer - 0.062"

2 layer - 0.005"

4 layer - 0.010"

6 layer - 0.031"

8 layer - 0.040"

Maximum Board Thickness

2 layer - 0.125"

3-12 layer - 0.200"

0.250" - 0.500"

Maximum Board Size

16" x 22"

12" x 21"

10" x 16"

16" x 22"

12" x 21"

Copper Thickness

0.5 oz - 3 oz

4 oz - 10 oz

Hole Aspect Ratio

7 : 1

15 : 1

Minimum Hole Size

0.008"

0.004"

Minimum Trace/Space

0.006"/0.006"

0.002"/0.002"

Minimum
Drill-to-Copper

0.010"

0.005"

Minimum Pitch

1 mm

0.3 mm

Final Finish

HASL (Solder)

Lead Free Solder

Copper

Gold

Gold Fingers

White Tin

ENEPIG

ENIG

HASL

Gold (ENIG/Hard/Soft)

Selective Gold

Immersion Silver

OSP

White Tin

ENEPIG

Additional Features

Plated Slots

Non-plated Slots

Controlled Dielectric

Covered Vias

Counter Sinks

Counter Bores

Dual Access Flex

Suspended Leads

Plated Edges

Plated Milling

Plated Counter Bores & Counter Sinks

Edge Castellation

Controlled Impedance

Silver Filled Vias

Non-Conductive Filled Vias

Quality Standards

IPC 6012 Class 2

Electrical Testing

100% Netlist Testing

TDR Testing

Milspec 31032

Milspec 55110

Milspec 50884

IPC 6012 Class 3

100% Netlist Testing

TDR Testing

Special Technology

Blind & Buried Vias

Laser Drilled Vias

Mechanically Drilled Micro Vias
EXPLORE OUR PRODUCTION CAPABILITIES & TECHNOLOGIES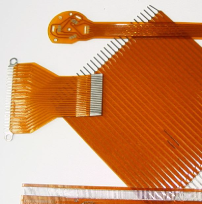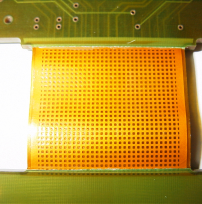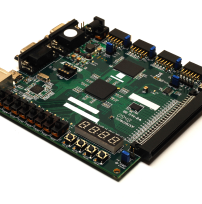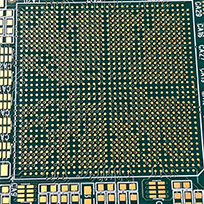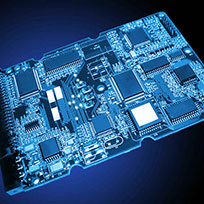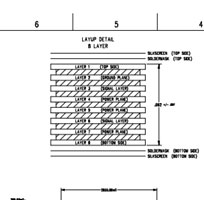 Best Practices for Medical Device PCB Layouts
It's always best to follow good practices with PCB layout to prevent board-level faults. In the case of medical devices, lives are dependent on the successful operation of the PCB, so following best practices is not just recommended, but essential.
Some of the best practices for medical PCB devices include:
Keep trace lengths and sensitive signals as short and direct as possible
Use power planes and ground planes to shorten decoupling capacitor signals and provide good ground coverage
Build in enough copper for high power dissipation and minimized voltage drop for high energy traces/planes
Use differential pairs/signals for high speed data traces to minimize reflection
Keep clock signals very short and separate from other nearby traces/planes to prevent cross-talk
If you have to overlap traces from different layers, do it as perpendicular as possible
Isolate temperature sensitive components from other components
Always double check reflow soldering requirements to make sure that some components aren't having their max temperature exceeded during assembly
Testing Procedures for PCB Medical Devices
In addition to the design process, there must be many stages of testing including:
Life tests (which may need to be "accelerated" depending on the application)
High impact testing
Water submersion
EMI/ESD tests
Any other harsh environmental testing that may be relevant to the application
And for PCB-specific tests, here are few important tests:
Bare and functional level testing
Power testing
RF tests/tuning
Differential pair testing/optimizations
X-ray inspection for non-visible solder joints
Though verification and validation tests may reveal some issues upfront before launch, failures in the field can be devastating. Thus, it's best to increase overall confidence, test as thoroughly as possible, and to re-visit the risk assessment to make sure that each potential hazard has been addressed and tested against.
Learn more about our PCB testing and inspection capabilities.
Our team of experts are ready to help you get the right PCBs build for your medical devices or medical applications. Get a quote today for your next medical application.