San Francisco Circuits
President's message
Welcome to San Francisco Circuits first newsletter. My name is Alex Danovich and I am the founder and President of San Francisco Circuits. When we started our company five years ago it was with the understanding that we would provide our customers with the best possible customer service available on the market today. During my career working for others in our industry I saw things that I wanted to emulate and quite frankly things that I did not want to emulate. When I started this company I wanted it done right. I wanted our customers to feel respect and the appreciation that we had for them. I wanted our customers to feel that our service was so unique and so valuable that they would want to work with us forever. And now after many years of hard work, many years of providing our customers with the best service possible we are starting to achieve the time of value added customer service that I have always wanted.
Don't get me wrong, the journey towards remarkable customer service and satisfaction is never ending, no matter how good a job we are doing we can always do better and this is what I promise you; that we will also strive to provide you with the best possible printed circuit board value on the market...always.
Please check out this newsletter for more information about our company. In this issue you will meet one of our team members; you will get a chance to share with us an award we just received for our excellent performance; and yes you will get a chance to save some money by taking advantage of this month's special promotional offer.
So please check this out and if you like what you see give us a call.
Best Regards
Alex Danovich
President
San Francisco Circuits
WHY USE SF CIRCUITS?
San Francisco Circuits, Inc.
With the resources of a strong network and the expertise of our team members, San Francisco Circuits provides you with a unique one stop solution to all your PCB needs, including PCB design, PCB manufacturing and assembly.
Single Source:
It is no longer necessary for you to seek multiple vendors for different services.
San Francisco Circuits offers you a single point of contact and will take care of all aspects needed to bridge your concepts with reality.
No Limits!
Because of our strong alliances, we have no limitations as to technology, quantity, or lead time. Our network represents a full array of highly respected, top rated manufacturers, designers and assemblers.
San Francisco Circuits team members are dedicated to providing you with exceptional support and satisfaction.
Our experts are available to consult 24/7.
So, call us anytime at 650.655.7202.
Meet the Team
Raisa Bashirova, CAM Engineer
Contact Information Email: engineering@sfcircuits.com Tel 650.655.7203
Raisa is one of the key people at San Francisco Circuits. As a CAM Engineer she has extended experience, expertise and professional know how to assist our customers when it comes to review design for manufacturability, panelization, Gerber files editing. She ensures that manufacturing data has no issues. Once we receive customer's data Raisa evaluates the files, runs DRC, and clarifies the data with the customer.
Raisa has been with San Francisco Circuits since we started the company five years ago. She came to us with extensive experience working with CAM Master (Lavenir), UCAM, CAM350 and Genesis. She also has a great deal of experience in computer programming.
When it comes to servicing our customers, Raisa says, "I think the most important thing is to combine technical knowledge, accuracy and clarity with a friendly and optimistic attitude as well as patience. We have to remember that we are there for the customers and must do all that we can to make sure that they get the best product and service possible."
When she is not busy servicing our customers, Raisa enjoys hiking and playing Chess (Raisa is a Chess champion)
SF Circuits Receives AAI Corporation's Excellence Award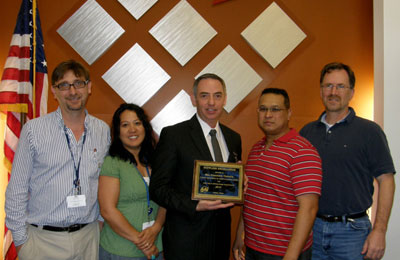 Special Promotional Offer
We will build you 2 and 4 layer standard technology prototype PCBs in 3 days for the 5 day price.